Discussion Starter
•
#1
•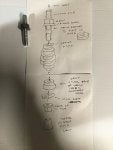 For about $30 you can make your 1920 Indian seat look like a real springer seat- thus eliminating explaining at stop lights how the seat mount really is. Besides it looks neat too.
(2) 3" long stainless chromed seat springs -pair from Amazon $8
(1) pkg 10mm exhaust studs x 60 /61mm long w/skirted flange nuts (6) per pkg from Autozone.
$10 for (6) nuts,studs.
(1) pkg of two shock absorber grommets slice each into a top and bottom piece Autozone $ 5
(2) black rubber stopper /tapered rubber plugs Home Depot $ 2
(2) stainless washers for 10 mm bolt Home Depot $1
(1) 15 mm cheap open end wrench to grind thinner. $ 2
First put an old towel over the fender below the seat and tape it in place. Remove the (2) 10 mm SHCS from the bottom of the seat. Assemble a 10mm stud with one flange nut on it up side down.put flat part of the rubber shock grommet you cut on the stud.(see pic) Slip the spring on the stud. Install the other part of the shock grommet tapered end first onto the stud. Slip it between the coils. Install flat washer. Install another 10mm nut , flange side up. Screw this into the seat basew/ the stud threaded into the seat base same amount of threads as the SHCS you took out. Tighten up the nut good- note- with the nut flange side down on this you will need to grind a 15 mm wrench thinner to tighten it up the nut correctly. That is because the aluminum seat frame has a recessed hole. Buy a cheap metric wrench for this application. After these nuts are tight, tighten up the nuts inside the springs to compress the rubber shock grommets. Stick a tapered rubber plug in the bottom end.. your done. Now it looks correct. Not responsible if you screw this up or damage your bike or finish.