Discussion Starter
·
#1
·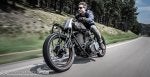 ​
Roland Sands is a master of design. What he's done with the new Indian is further evidence of his skills.
Sands unveiled the modern interpretation of a boardracker at the industry party for the debut of the 2015 Indian Scout. He promptly demonstrated the potency of its Thunder Stroke 111 mill by lighting up its thin, tall wheel until pillars of smoke blanketed the venue.
The bike is a thing of beauty. It starts up front with that incredible leaf spring fork which has been modernized with the addition of a small piggyback shock on its left side. The wonderfully crafted handmade tank is made from titanium, its welds deliberately left exposed. Behind the front number plate is the fly-by-wire throttle housing while an internal twist throttle keeps the bars tidy. In fact, there's almost no visible wiring at all. According to the RSD Blog, the wiring system itself "has been pulled apart and rebuilt with 90% of the connectors removed for a thin, purpose-built loom." While boardtrackers ran sans brakes, the RSD Indian needed to have a little something to scrub off speed so it could be ridden on the street so they mounted a Performance Machine radial mount brake caliper on the front.
At the heart of the machine is the new proprietary powerplant Indian debuted last year, the Thunder Stroke 111, albeit with an RSD intake and an exhaust made from titanium tubing. The rear – well, there is no rear. It's a rigid through-and-through, no shock on the back, no fender, just a sleek, slim wheel. The end result is a motorcycle that's been stripped down to its essence.
"Simplicity is a complicated thing. Deconstruction of a fully engineered machine down to its absolute simplest form takes determination, perseverance, connections and lots of hours," states the RSD Blog.
While out riding with Victory Motorcycles on our way to the Legends Ride, we ran into Roland on the side of the road out in the middle of nowhere in the Black Hills. That's where photographer Barry Hathaway was able to capture this incredible shot. There was an ear-to-ear grin on Roland's face each time he twisted its throttle. He flicked it side-to-side with ease and grace. Of course, pulling into Deadwood, we saw him standing on its pegs to avoid a spanking by the rigid rear.
Had Roland been born at the turn of the 20th century, no doubt he'd have been a boardtrack racer.
Sauce:
Roland Sands Rides Sturgis On Indian Tracker - Motorcycle USA