2020 Indian Scout Jade Green and Thunder Black
I have had several stones lodged in between the plastic radiator cover and the radiator. I seem to pick these up around road construction / resurfacing sites when stones and pebbles are kicked up by cars ahead if me or traveling in the opposite direction. Between impact and rattling around behind the cover the stones smoosh up my beloved radiator fins. For some reason this happens most on the lower left side in front the area the fan blows through.
I ordered a condenser comb ...
In frustration I used a tooth pick to clean out the debris and open up and straighten the crushed fins but it was difficult to make them even. Then I taped two toothpicks together with much better results. By slightly angling them it aligns the fins and by varying the depth of the toothpick shaft you can control the relative size of the aperture from one fin to the next. (Those fins are very soft. Like butter)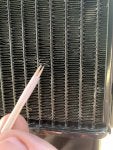 Not perfect enough to satisfy my OCD but it should allow adequate airflow.
(patent pending all rights reserved EngineJoe Co. Enterprises)
Soon to be available on Amazon, EBay and Revzilla.
Next stop, radiator screen and mud flap.