Discussion Starter
·
#1
·
Rear axle/wheel on my Scout would not slide back and forth in the swing arm oval hole. It seems to happen because of the rear caliper mount. There is a (male) cheek on the swing arm, and a female slot on the caliper mount. I imagine it was meant for sliding caliper back and forth. As it is depicted here: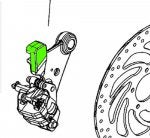 If that cheek/slot joint was lubricated, it would help sliding the axle/wheel to the front, but it could also contaminate the brake pads, for the caliper is located just underneath. That is why I didn't try to use lube there. Or should I try and do that?
I am trying to align my belt and my rear wheel, and I have seen on video (time 6:10) someone was sliding his rear axle/wheel easy to the front or to the back an inch or so (without dropping the rear caliper).
How to push wheel to the front easy?
Thanks to all who would comment, and even more to those who help in this matter.