The typical British man-cave, for those of us lucky enough to have one at all, isn't usually as big as that on the other side of the pond. Keeping Mrs downswalker sweet by not having various Indian parts stored on the dining room table here at Chateau Downswalker posed a bit of a problem, which I've solved with the aid of some leftover bits and pieces at almost zero cost, both in terms of money and of garage floor space.
Here are my wall racks for the Chief's pillion seat and the windshield. All-in cost was under a tenner for both racks. The tubes are 1" plastic conduit for the seat rack and 3/4" chrome tube for the windshield rack.
The windshield rack is slightly more complex than the backrest one - it hinges forward to give you access to the quick-release catches and folds back to support the windshield without it touching the wall.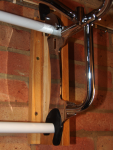 You're very welcome to copy, adapt, or whatever.