A nice lady was asking me today about saddlebag availability. A few others have asked about them before. Anyway, I've been thnking I want to add set on our Kombat Kruz'r so I started looking around to see what I can find. If you recall, I'm going for a fat, (not phat) wide tire, retro, hot rod look. I'm a chrome guy but the style I'm going for will work equally well with blacked out components too. I think the Indian bags are beautiful but they're bigger than I want for my own bike. Both because of the style I'm going for and also because I don't have a need for their capacity. The other issue is price. People have said they aren't ready to drop a grand for a set of bags.
I'm going to call Willie & Max tomorrow and ask if they intend to dye bags to match the Scout.
I intend to tell them (if they don't know already) Scout riders are a huge market! Scout retro styling lends itself to leather bags but I want some that are smaller than Indians.
If their color matched the Scouts tan leatherI could go for a set of these.
Willie & Max Revolution Brown Large Slant Saddlebags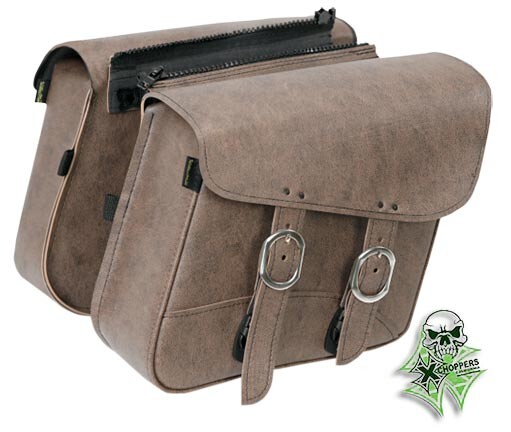 $149.99
I'd take off the zippers and mount them with Easybrackets so I could quickly take them off to change up the look.
EasyBrackets for 2015+ Indian Scout
They're synthetic leather but you can't beat the price and synthetics hold up better to the elements...